The Afghan School Project
CanILF offers financial and administrative support to a post-secondary school in Kandahar, Afghanistan (the Afghan-Canadian Community Center or ACCC) via our Afghan School Project.  The ACCC provides courses in Business Management, Information Technology, English and Health Care to over 800 men and women in Kandahar, Afghanistan. Students at the ACCC also receive recognized Canadian online education via the Southern Alberta Institute of Technology and the Canada e-School.
The school's programs provide students the skills needed to obtain employment which allow them to support themselves and their families, give back to their communities and participate in the reconstruction of Afghanistan. Already, close to 200 students have obtained high-paying jobs as a result of the professional education provided by the ACCC and facilitated by CanILF.
ACCC Director Ehsan Ullah instructs a class
Financial support from CanILF is provided as scholarships to Afghan students who demonstrate academic potential, leadership and community service, and through the purchase of computers, textbooks and additional material needed to provide effective education. The cost-per-student for students to attend the ACCC ranges from $10 to $25 per month, depending on the program.
The ACCC has been prominently featured in international and local media, including the Canadian Broadcasting Corporation (CBC), the British Broadcasting Corporation (BBC), Global National, the Canadian Press, the Toronto Star, Ariana Television, Afghan National Television, Kandahar Television, Afghanistan Alive Magazine, and many others.
We need your support to help the Afghan-Canadian Community Center provide students with classes and access to modern educational equipment. Please click here to donate.
The Uganda Literacy and Education Program (ULEP)

CanILF offers financial and administrative support to St. Paul's Kabira Adult Attention and School of Orphans (KAASO) via the Uganda Literacy and Education Program. KAASO is a primary school, orphanage, and adult education centre in the rural district of Rakai, Uganda.
The school was originally intended for orphans or adults who never had the opportunity to attend school, but has since grown to have a wider purpose and is currently used as a base for many community empowerment and development projects, such as adult literacy programs, women's empowerment groups, and community library services. The ultimate goal for KAASO is to empower and equip the community as a whole to enable them to bring their children into a brighter future.
KAASO students line up to gather water
HIV/AIDs awareness has become a top priority for both the school and community outreach programs. Uganda has been called "the birthplace" of AIDs; some of the earliest known cases can be traced to the Rakai district. Although education and sensitization programs have helped contribute to decreasing the prevalence rate, some 15% of people in Rakai are still living with HIV/AIDs, significantly higher than the national average.
CanILF will begin this partnership by supporting KAASO's Women Empowerment program. This project provides female students with the skills needed to obtain employment and provide for their families. Promoting basic literacy in the local language (Luganda) is currently CanILF's main concern.
Financial support from CanILF will be used to pay for student scholarships and educational equipment, including the costs of a teacher, electricity, textbooks, computers and other materials required for providing an effective education for these women.
We need your help to establish CanILF's Uganda Literacy and Education Program (ULEP). To donate, please click here.
Yemen Micro-Project
The Yemen Micro-Project (YMP) is The Canadian International Learning Foundation's (CanILF) first project in the Middle East.  The YMP's goal is to help to connect local partners in Yemen with educational and information technology expertise in Canada through collaborative initiatives.  Canada Bridges, an organization that has extensive experience in offering business education in Yemen, has agreed to help CanILF choose suitable partners and establish relationships with the Government of Yemen.
The YMP will be a two-phase initiative.  The first phase of the project will connect students in Sana'a and Hadhramout, Yemen, with online English courses donated by Intuto Canada through CanILF.  During phase two, CanILF will provide the support needed to boost the information technology capacity of selected Yemeni youth organizations in those cities, providing better accessibility to educational programs from Canada and opportunities for learning.
The YMP project is currently in its first phase. Â A high-level description is provided below: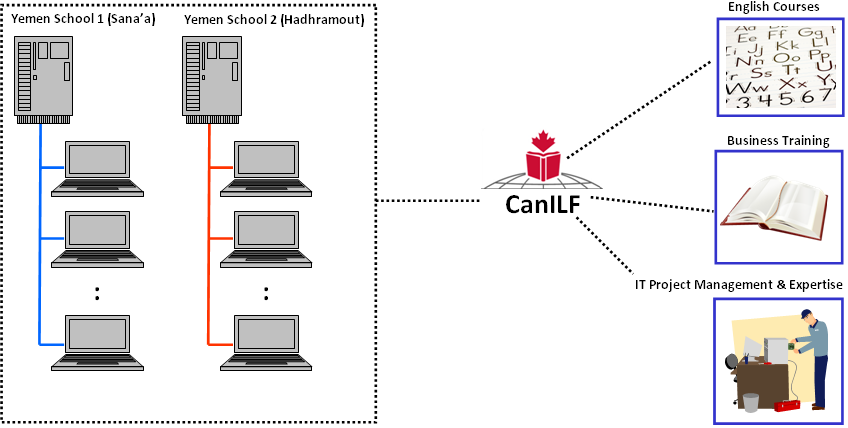 Click the diagram for a full-size view.
Over the next 12 to 24 months, CanILF will work with Yemeni educational and youth organization partners to deliver English and business-related courses remotely from Canada, with CanILF providing information technology and project management expertise.  By current estimates, the YMP will have a budget of between $15,000 to $20,000 USD and will provide each local organization with equipment for a computer lab of 10 to 20 workstations.
The CanILF team is researching funding opportunities for the YMP and welcomes any donations that could be used to provide local partners with computers, networking infrastructure, electrical equipment, and office furniture that could be used to build the Yemeni computer labs.
CanILF will also provide students in Yemen with access to its world-wide programs, such as the Peer to Peer Education Program (P2PEd).  The Peer to Peer Education Program connects professionals in areas of the world affected by war, illness and poverty to established professionals in other countries via the internet.  Peers will have the opportunity to learn about each other and their countries while engaging in professional development discussions.
To learn more about this project or to suggest a potential donor organization, please contact CanILF directly at [email protected].
Upcoming Projects
The Canadian International Learning Foundation plans to establish additional projects with partners in First Nations communities in Canada and other parts of the world. If you know of a deserving educational institution which would benefit from our financial or administrative assistance, please e-mail us at [email protected].
As a registered Canadian charity managed and operated by a volunteer staff, 100% of all donations made to CanILF are applied directly towards our projects. To help change students' lives, please Donate.